i know it. ive been lagging in the worst way. sorry chall. i got a gang of shit and some hd issues. but this is a set me and my boy, dj wh0? did on The Bridge on livemixshow.com. shouts to erock707, dj 360, and dose for having us on. unfortunately i had to chop the show to just me and wh0? because of mediafire's 100mb limit to file uploads. but you guys should check out www.livemixshow.com to peep them dudes out.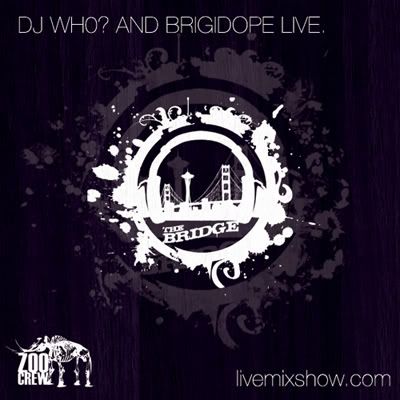 typical zoo soulishness. complete with wh0/brigidope microphone nonsense.
ive got one more mix i need to finish up with drops and art... you know this process might go easier if one of my female readers could do a couple drops for me.... please????? im just getting tired of the female robot voice. inanycase stanky purple hollerate if you would like to do a drop or two for me... all it means is you just email me an mp3 of my name/crew... a/s/l...
jk on a/s/l
greasy peas yall.