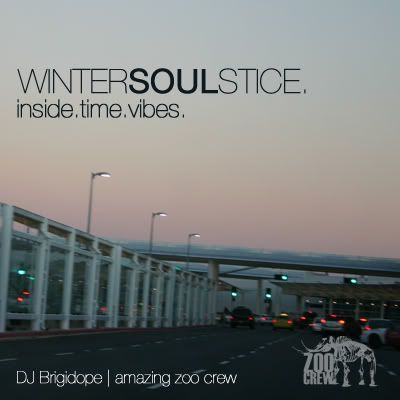 it's cold outside. and im pretty sure it's gonna get colder. this is the season where everyone gets all booed up and people bust out the yule log to cupcake up on a bear skin rug with a glass of red wine, keith sweat, maybe some rubber sheets. baby oil. a feather duster. candles. some good heavy rope. maybe some gravy from thanksgiving. hotsauce. leather chaps and a cowboy hat...
ok. so brigidope aint booed up and maybe my memory is getting foggy but i kinda remember that that's how it's done... oh well.
but the point of the mix is that while people spend more time inside... they may as well have something to bump for that special "i just got off work and im trying to kick it with you" vibe.
on a side note... i made the recent observation that at some point in some people's relationships... people stop talking. you know what i mean? like both of you are in the room and you just kinda move
around
each other? it happens right? like at some point in time, your significant other just ends up being that person blocking your sunlight or making the remote control all warm. you kinda stop discussing things that are important, things that matter, and things that are interesting and end up just fighting over stupid shit.
so whether you been with someone for a minute or you are still in the "cupcake-we-still-hump-like-highschool-freshman-when-moms-is-outta-town" phase... this is for you...
brigidope luh da keeids so im hoping this mix helps some people go "half on a baby" in the words of the King of Freak R Kelly
sounds like:
sade- all about our love
maxwell- w/as my girl
lauryn hill- turn your lights down low ft bob marley
lauryn hill- tell him
aaliyah- at your best stepper's ball rmx
sade- ordinary love
d angelo- lady just the beat rmx
raphael saadiq- you should be here
jill scott- bedda at home
raphael saddiq- still ray
d angelo- smooth
d angelo- feel like makin love
shai- i don't wanna be in love rmx ft jayz
2nd half: it's the truth half. im not going to post a track list because i want certain songs to be on some "ohshitthisisreallythetruth" status. let's just say that if you make it this far, it's time to DO WORK.
ps. i think everyone can appreciate this mix... but my 25 and over folks will probably be "get it" a little more.