whats that? you need some place great for a date? your favorite dj crew is holdin it down. MONDAY. jan 19th. 09.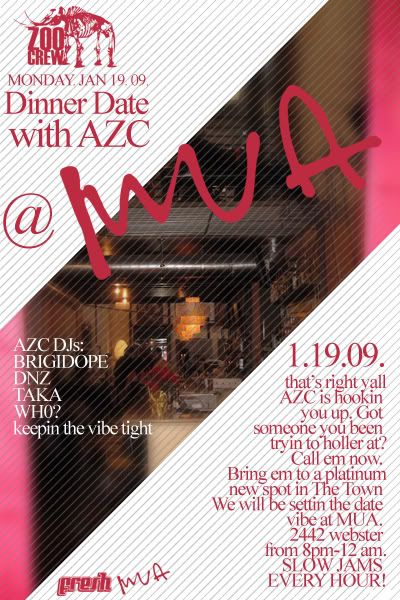 Mua is a nice new spot in Oakland (where tha town at) and we will be settin that date vibe from 8pm-12am. you can trust we will be playing slow jamz every hour... so go ahead, order another drink, a bottle of wine, and get yer dinner date on. (fer reals if they showed up that's half the battle won!)
vibin with:
brigidope
taka
dnz
wh0?
8-12
mua oakland
2442 Webster St Oakland
(510) 238-1100
no cover er anything... but you know... dinner/drinks aint free.
it's
your
date. so dress how you feel.
and if you need something to set that date vibe on the way to MUA... brigidope got you covered on ALL angles.